The ultimate ROI – tangible business results.
---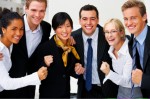 SalesSHIFT programs provide the thinking and the skills to succeed in B2B selling today. We create awareness of your leveragable strengths and of your unproductive blind spots. When you act in context of this new knowledge and skill, the results are immediate.
---

Michael's commitment to action drove immediate results.
Michael, a tele-sales Account Executive with a large North America-wide technology reseller, was an enthusiastic participant in our recent three day sales process/prospecting combination program. Within a month of the training Michael shared that the training toolset was providing "real tangible and, most of all, consistent results in my day to day performance."
Part of the workshop process was to work on real world prospects and client opportunities and to role-play in class with the intent of developing plans to assure productive meeting/calls with these clients on return to the job… and ultimately accelerate the sales process. Armed with his newly formed call plans Michael took immediate action. I'll let Michael's words describe the results…
---

Shifting from 'Nice' to 'Relevant' = 3 new business opportunities.
Aine is the associate Director of Sales for a global luxury hotel chain. She recently participated with her team in a full day salesSHIFT Sales Lab. She left the day with fresh thinking about some of her most important sales goals and challenge… and, most importantly, a commitment to apply these new insights.
---

Chris beat out six competitors in a cut throat bid by shifting his approach with procurement.
Chris is a seasoned sales professional. He sells and executes sales motivation programs and strategic business events to mid and large sized organizations in North America. Chris, and his colleagues spent three days in intensive training, the focus of which was not to teach them how to sell, but rather to "course correct" their approach to assure the greatest success in a highly competitive market.
---

From "price disadvantage" to "competitive advantage."
Ben works for a large technology reseller that provides IT solutions to a wide range of industries and businesses of all sizes. Shortly after attending both our prospecting and consultative selling training programs he was approached by a manufacturing company in Eastern Canada that was seeking expert support with specific licence renewals. The customer was initially very focused on price and was seeking competitive bids.
---

Peter shifted his thinking, and immediately increased revenue from his client by over 300%.
A 17 year veteran in newspaper advertizing sales, Peter was skeptical coming into the three days sales training. He had been selling to many of his customers for 17 years. He knew them, knew what they wanted, and knew how they bought. He had a strong sales track record. What would he learn?
---

Chris came out of the black hole to close a $540,000 deal.
Chris is one of over 100 technology reps that went through "phase one" of sales methodology training sponsored by his company last year. At the end of the four day process he came to me seeking advice about a proposal he was writing.
---

Alex improved his access rate by 66% in under a month.
By most people's standards Alex is already a highly successful sales manager. Selling a relatively new online media product to a very traditional market, he was averaging four new meetings from ten telephone calls. An enviable access rate for many – but Alex wanted to do better.
---

Debbie closed a $40,000 deal at the first meeting with a new client.
Debbie is the account manager with a Canadian corporate event planning company. She was preparing for a meeting with a new US-based client who was sourcing a local expert to assist with the grand opening of their first Canadian office/showroom location – and she needed help.