Close the sales gap.
---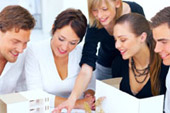 Buyers' expectations of sales professionals have evolved, buying processes have shifted, and competition for time, attention and money is fierce. And while almost 75% of sellers believe that their sales approach differentiates them from their competitors, only 3% of their customers say they do this extremely effectively.*

---
SalesSHIFT's sales training programs close that gap. Our core training programs, webinars, and sales process training are designed to:
Create thinking reps, not clones
Too much sales training tells you what to do and what to say. The end result is a lot of sales reps saying the same thing and using the same worn out tactics that your customer tunes out. We teach you to think differently so that you act in ways that enable you to move the sales cycle forward with every customer interaction while enhancing the relationship with your customer – regardless of market conditions.
Get you in sync with your customers
We remind you that there are two cycles in any sales opportunity. The buying cycle and the sales cycle. There are also multiple perspectives – the individual buyers' and the seller's. Sellers unknowingly get stuck in a seller's mindset and miss clues of misalignment that lead to commoditization, lengthened sales cycles, and ultimately cost you the sale.
Eliminate your blind spots
Things you do may be slowing you down. Things you don't do are costing you business. And here's the kicker …. You're not aware what these things are. We design and deliver our programs to catch you in the act. Our programs put heavy emphasis on you practicing and applying new thinking and skills as you learn. And you get tons of feedback. So that you see immediate results in your real world.
Put your customers in every class
Our programs are not academic theory. You work on your real customer opportunities. We integrate case studies based on your selling environment. And sometimes we bring your real flesh-and-blood customers into the class. And we bring practical insights, strategies and researched best practices to every sales development experience.
Eliminate the risk of failure
We treat sales skills development as a process. Our flexible training formats (webinars, modular coaching programs, class room and tele-labs), coupled with our Sales Results Accelerator Process™, assures higher likelihood of consistent application which ultimately leads to the delivery of tangible sales results.
Keep it simple
We don't believe in trying to fix what isn't broken. Which is why we offer a unique offering of sales process and skills training, delivered in a variety of formats, and that builds on, and leverages the talent and strengths that exist within your team.We will counsel you on how to raise the bar and build competitive advantage while minimizing your investment in terms of time and money.
*'What Really Matters in B2B selling' an international study conducted by Infoteam, Zurich.
---
---
---

Want more information about how our custom training programs and sales effectiveness services will impact your business results? Or looking for insights on your own sales challenges?
Contact SalesSHIFT today
.