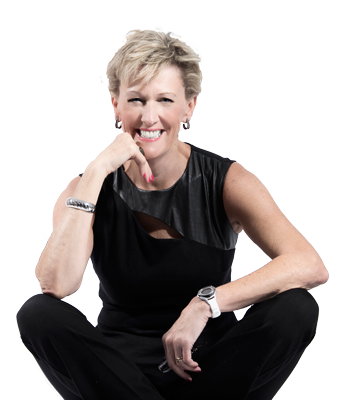 Jill Harrington
Up close and personal
For Jill's official bio, click here.
Read Jill's philosophy on selling.
---
There are two things you should know about me.
I am a career sales person. And I care deeply about people's success.
I never planned to sell for a living. I fell into a sales career when I arrived in North America from the UK and needed to eat. My impressive marketing background was of little value on a different continent and so when I was offered a position in sales I jumped. I was clueless when I started but hard work, coupled with continuous learning, provided me an extraordinary sales career that eventually led to the executive suite.
I am passionate about the profession of selling. It is the backbone of business. And I am frustrated by the number of talented sales professionals and sales organizations that settle for mediocre results because they've failed to shift their approach.
Too many sales people, even entire sales organizations, work way too hard doing the wrong things for the wrong reasons. Your team may be stuck in a rut doing what they've always done, doing what your competitors do, or simply doing too much of what doesn't work. The net result… You're making it way too hard for your clients and potential clients to choose you!
My goal is to ALWAYS deliver smart simple practical stuff that works. I've lived in three countries on two continents and I invest an extraordinary amount of time and money in reading, watching, and studying with other sales and business experts. My worst nightmare is to become a dinosaur. The planet is already littered with them.
What else?
I am determined that you see big outcomes.
I'll guarantee our work – which means no risk to you.
I'm fun. Don't let the professional façade fool you!
I'm a straight shooter. I say what I mean and I mean what I say.
I provide tough love to those who need it – and can take it.
And I have a talent for nurturing the new sales kids on the block.
I will shift the way you think about sales success so that you look at your role differently and your clients will view you differently. In short I will provide you the uncommon sense that will maximize your influence, impact and income.

Check out our customer success stories. Read about the shifts they made and the BIG results they achieved.
---
Jill's philosophy on selling
I believe …
Selling isn't rocket science (unless you sell rockets). But it feels that way because it's a new world, and much of what you learned in the past is history because technology, the abundance of choice, and unpredictable market conditions have put control firmly in the hands of the buyer. To be "relevant" in today's sales environment requires a shift in your approach.
How you think impacts how you act. How you act impacts your results. Too many sales professionals are stuck in a traditional "seller's mindset." And this is inhibiting your ability to take the actions that drive superior business growth. Trying to change what you do without first shifting the way you think is an exercise in futility.
How you sell is more important than what you sell. The best product or the lowest cost service does not necessarily win. Focusing on the customer's needs is not enough. Sales success requires a different kind of dialogue with a focus on "customer-contribution." The sale, and usually a bigger one, is the output.
Your benefits no longer differentiate you. Why? Because everyone cites the same benefits and you've trained buyers to tune out. The balance of power has shifted. In the past, power lay in the benefits your services provided. Today it lies in the quality of information you obtain, and how effectively you use this information to contribute to your customer's success by their definition.
You should stop trying to create your unique value proposition. It's meaningless and valueless. Focus on creating value propositions that are unique to each of your prospects and clients… then watch doors swing open and revenues soar.
Sales experience can be a liability. The three most dangerous words in your vocabulary are "I know that." If you're not blowing the roof off your sales targets you either don't know it, or you're not doing it. Unless you continuously deepen your understanding of your customer, and rigorously upgrade and apply new knowledge, skills, tools and technologies, you are a liability.
Sales Managers must refocus. There is increased pressure on sales managers to focus on analyzing and reporting the numbers. What's wrong with this? It's back to front. Focus on the success of the people who ultimately drive the results (the individual members of your sales team) and you'll have numbers worth reporting.
Selling would be uncomplicated if it didn't involve human beings. Despite rampant advances in technology the human factor is not going to go away. Buyers are human beings and human beings are individual, imperfect and unpredictable. You may develop the best sales strategy in the world, but if you fail to prepare yourself to address the human factor that strategy may be doomed.
Sales skills are fundamental business / life skills. Everyone sells every day of their life. You sell to your customers, your peers, your boss, your team. Even to your spouse and kids. Selling an idea, an opinion, or selling "you" is no different to selling a product or service. Regardless of your role in business and in life, if you want to have influence and impact, you must hone your selling skills.